Comic will be in exclusive E-Flipbook format to give you real Reading & Visualising experience every month
Regular price
Sale price
Rs. 108.00
Unit price
per
Sale
Sold out
Now visualize the world of Scriptures and Pastimes of Lord through Exclusive In-House made Comic by Expert Devotee Artists of Iskcon,Inc. in the most affordable price ever !!
We are fond of comics, now make your comic even Kṛṣṇa Conscious. The Goloka Times comic is a monthly global comic which reveals the knowledge of absolute truth appreciably. 
Issued by International Society For Krishna Consciousness, Inc ( Iskcon,Inc) based on the unedited books Of H.D.G. A.C. Bhaktivedant Swami Śrīla Prabhupāda the founder & acharya of Iskcon,Inc . 
This comic includes pastimes of Kṛṣṇa from Kṛṣṇa The Supreme Personality Of Godhead book , Philosophy from Srimad Bhagwatam which is exclusively known as the ripen fruit or juice of the scriptures & festival special stories with magnanimous animated characters. 
The Goloka Times Comic enlightens all age groups. Specially small children will love it and learn our Vedic Sanatan Culture and Stories instead of any Material Cartoons
Śrīla Prabhupāda said : 
Prahlāda Mahārāja said that from the very beginning of life, from the age of five, children should be instructed about bhāgavata-dharma because the human form of life, which is very rarely obtained, is meant for understanding this subject. 
~ Srimad Bhagawatam 6.16.43, Purport
Even in the wombs of their mothers Mahārāja Prahlāda and Mahārāja Parīkṣit worshiped the Lord; even in his very childhood, at the age of only five years, Dhruva Mahārāja worshiped the Lord; even in full youth, Mahārāja Ambarīṣa worshiped the Lord; and even at the last stage of his frustration and old age Mahārāja Dhṛtarāṣṭra worshiped the Lord. 
~ Srimad Bhagawatam 2.9.36, Purport
Share
E - Magazine Delivery

You will get Comic every month through your email , Comic will be in exclusive "Flipbook" format to give you real experience of reading , You have to use your gmail id to login to read magazine
Care Instructions

Please Dont try to share this comic with anyone else , otherwise we can claim copyright 🙏
View full details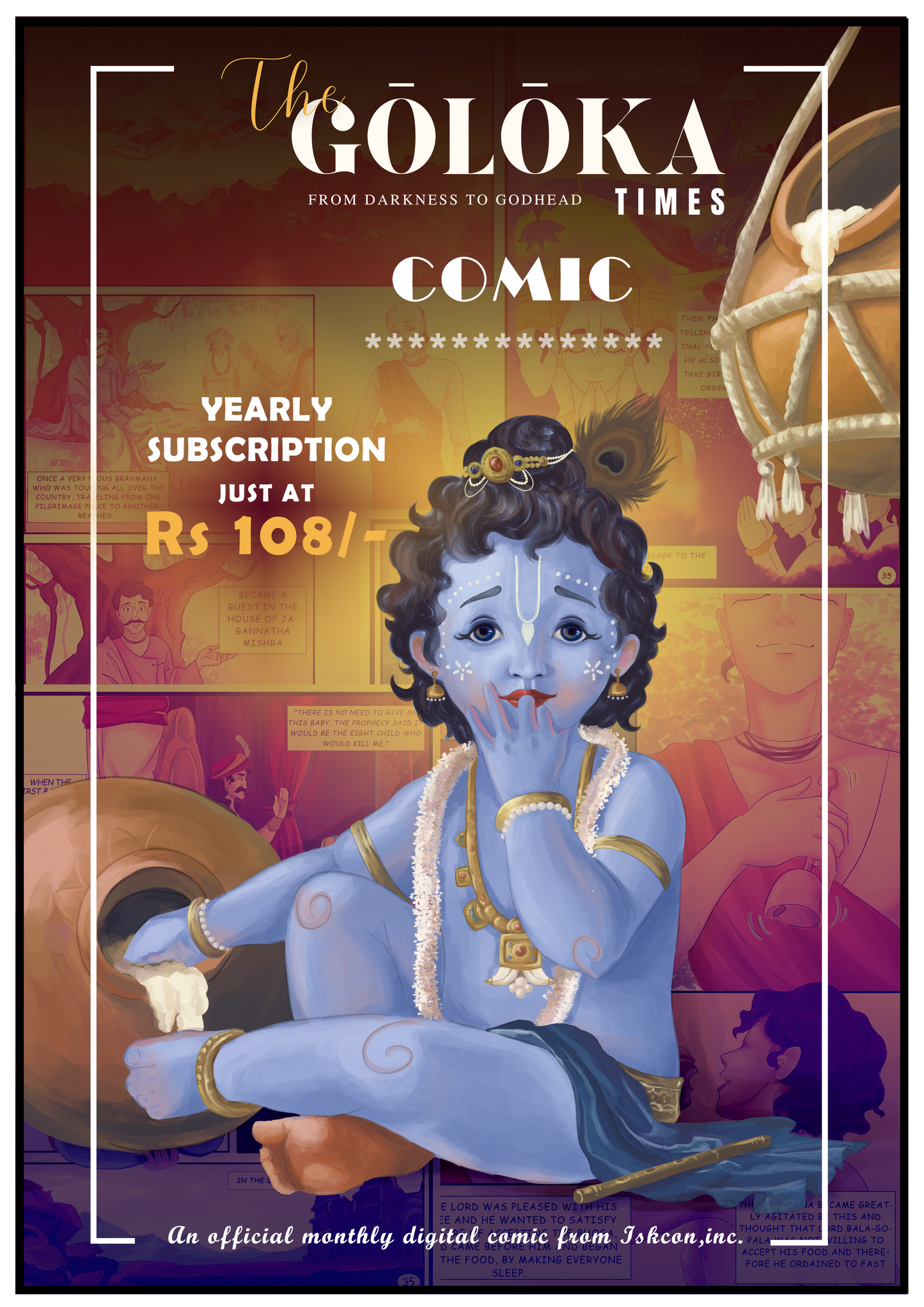 The Goloka Times Comic Yearly Digital Subscription
Hare krishna!
The goloka times magzin connects our emotion with the supreme god i.e parbarham🫀 .Reading the childhood journey of chaitanya mahaprabhu ji triggers our bhakti and emotion of samarpan towards krishna and while reading the incidence when krishna turns into shree jagannath prabhu it gives me goosebumps and help me to understand that how much shree krishna loves shree ji...its the etrnal love....while reading the goloka times comic i really feel connected the goloka dham.
Didn't get it
I still didn't receive my magazine so please process on it...... I am still rating it 5 starts cuz it's a good seva that's why please check it once
If they read my books,they will be benefited.There is no doubt about it.
Get them now !