Magazine will be in exclusive E-Flipbook format to give you real reading experience every month
Regular price
Sale price
Rs. 151.00
Unit price
per
Sale
Sold out
GOLOKA TIMES Is A Monthly global magazine which reveals to readers the confidential knowledge expounded through the flute of Lord Sri Krishna. Issued By The International Society For Krishna Consciousness, Inc (ISKCON, Inc) and based on the teachings of HDG A.C. Bhaktivedanta Swami Srila Prabhupada the Founder Acharya of ISKCON,Inc and the bonafied Gaudiya Vaishnava acharyas
The magazine Promulgates Through The Medium Of Essays, Poems And Articles The Light of Spiritual Consciousness extracted from The Bhagavad-Gita And Other Vedic Texts. 
This magazine is filled with Educative and informative articles, Transcendental songs, Questions & Answers, Vaishnava Calendar ,  Sattvic recipes , exclusive inhouse made comics and Editor's spiritual perspective on current affairs based on the teachings of scriptures.
Srila Prabhupada said - "A person who is constantly engaged in reading literature enunciating the cultivation of Vaisnava devotional service is always glorious in human society, and certainly Lord Krsna becomes pleased with him".
Share
E - Magazine Delivery

You will get magazines every month through your email , Magazines will be in exclusive "Flipbook" format to give you real experience of reading , You have to use your gmail id to login to read magazine
Care Instructions

Please Dont try to share this magazine this with anyone else , otherwise we can claim copyright 🙏
View full details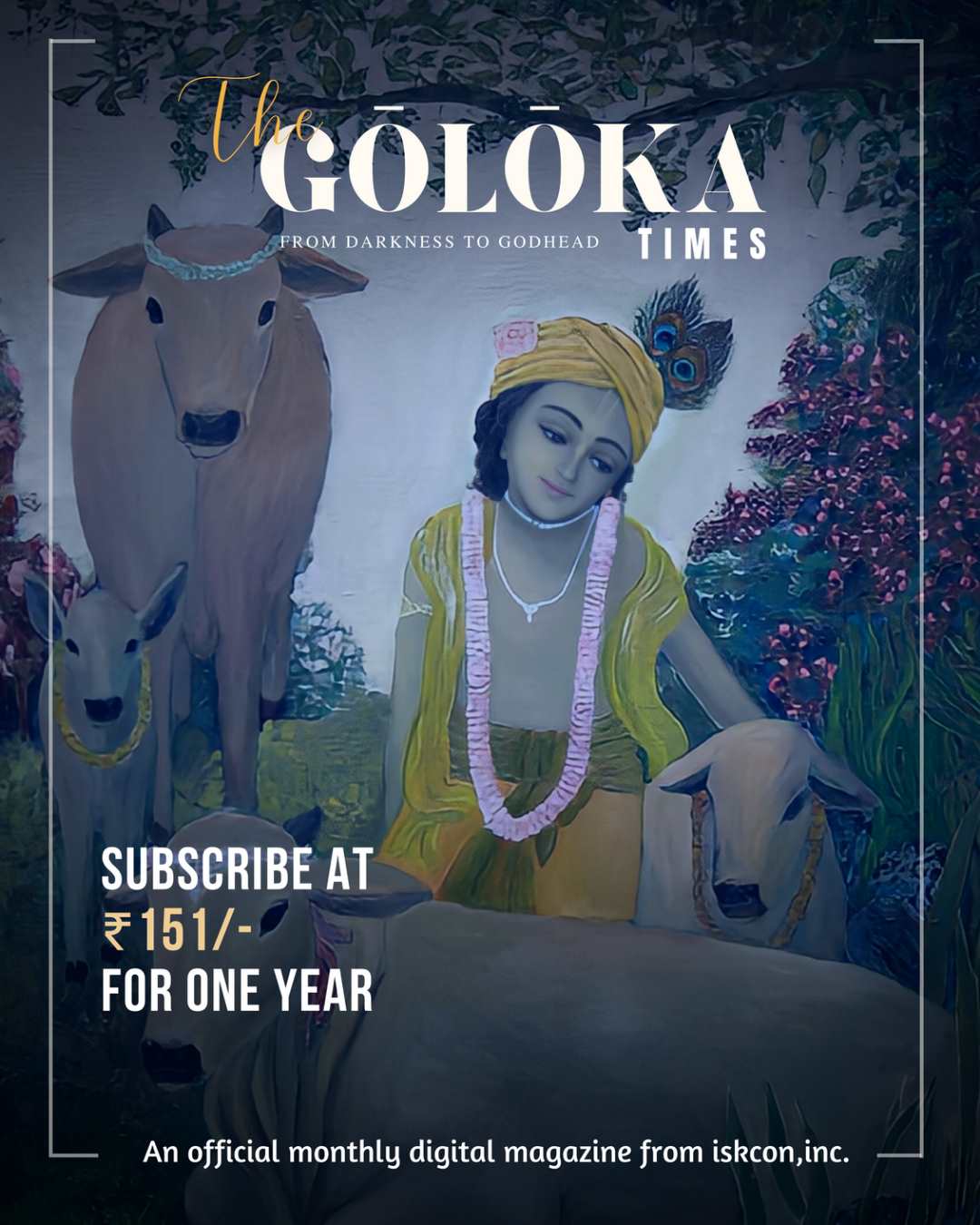 Awesome opportunity to engage with God's knowledge
Thank you for this amazing magazine. Both content and design are incredible!
Enjoy each moment of reading it.
Magazine review
Only word very thankful to each and everyone
Jai Srila Prabhupada
Jai Nitai Gauranga
The Goloka Times Magazine Yearly Digital Subscription
The Goloka Times Magazine Yearly Digital Subscription
If they read my books,they will be benefited.There is no doubt about it.
Get them now !